WhoCallMe is a reverse phone lookup service that allows you to identify unknown callers. The platform has become quite popular due to the increasing number of spam calls users receive daily. With WhoCallMe, you can effortlessly search for any phone number and get detailed information about the owner.
Learn Why You Should Know Caller ID
Due to many reasons, knowing caller ID can be helpful in today's world, where there are increasing cases of fraudulent activities over the phone. Some of the reasons why you should know caller ID include the following:
1.    To Identify Cybercriminals and Fraudsters
One of the primary reasons why knowing caller ID with WhoCallMe is crucial is to identify threats and block spammers. Cybercriminals and fraudsters often use anonymous numbers to scam people and steal personal information or money. Using WhoCallMe, you can quickly determine whether the call comes from an untrustworthy source.
2.    To Reconnect With Old Acquaintances or Friends
In addition to identifying potential threats, WhoCallMe can help you reconnect with old acquaintances or friends who may be calling from an unknown number. Whether it's a long-lost friend trying to get in touch or a sponsor you wouldn't want to miss, having access to accurate caller ID information can save you the hassle of missed connections and lost opportunities.
3.    To Avoid Telemarketers and Prank Calls
Whether it's a telemarketer trying to sell something or someone playing a prank on you, knowing who is calling you with WhoCallMe can save you time and frustration.
Discover How WhoCallMe Works?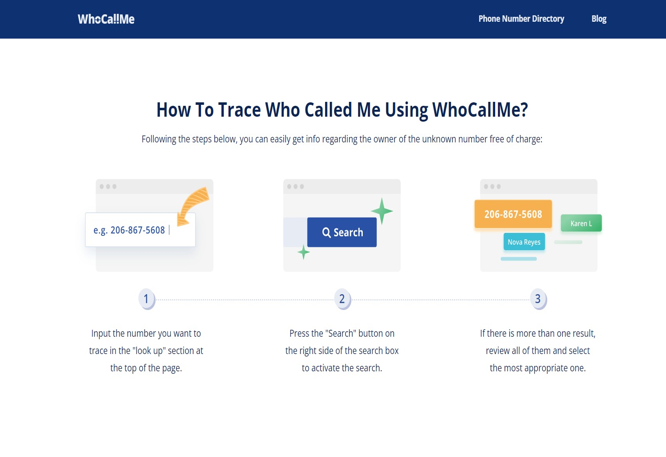 The process of using WhoCallMe is straightforward. You can discover who is calling and why with just a few simple steps.
●      Enter the Phone Number
To use WhoCallMe, all you need to do is head over to their website and enter the phone number you want to look up in the search box. Unlike many other reverse phone lookup services, no further details are required for the search – just the digits.
●      Click the Search Button
Once you've typed in the number, click "search," Then let WhoCallMe work its magic.
●      Get the Search Results:
In a matter of seconds, you will be presented with a list of results that match your query. If there are multiple results listed, take some time to review each one before selecting the most appropriate option. With this information at your fingertips, you'll be able to know who is calling me from this number, and you will decide whether to answer or ignore the call.
Find Out What Information Can Be Revealed With WhoCallMe
WhoCallMe is the perfect tool for finding out who's calling you. You can access important information about any callers with a simple reverse phone lookup or find out more details of someone via an area code only on site of WhoCallMe.
One of the critical pieces of information revealed by WhoCallMe is the person's full name that owns a particular number. This feature ensures you're aware when receiving calls from unknown numbers because you'll know exactly who's calling before picking up.
Another crucial information provided by WhoCallMe is an individual's residential and work address. If an unknown number has repeatedly been calling, identifying their location may give insight into why they are contacting you.
By using WhoCallMe's reverse phone lookup service, you'll gain access to the person's social media handles across all platforms. This includes Facebook, Instagram, Twitter, LinkedIn, and more. In addition to their social media profiles, their email address will be available.
Another important information that WhoCallMe reveals is other phone numbers associated with the caller. If the person has multiple phone numbers or uses different lines for business or personal reasons, these numbers will be displayed in your search results.
WhoCallMe also provides details on companions. This means you will discover the identity of the person who called and their friends and acquaintances. This feature becomes especially useful when dealing with mutual acquaintances since it can help to identify if there might be a connection between the caller and yourself.
Pros and Cons
However, like any other service, WhoCallMe has its pros and cons.
Pros
There are several benefits of using the WhoCallMe service. Some of them are:
1.    Accurate Results
Another advantage of WhoCallMe is that it provides accurate results in most cases. The platform uses advanced algorithms and data sources to provide users with reliable information about unknown callers. This can be useful when trying to avoid scammers or telemarketers.
2.    Easy-To-Use Interface
Another advantage is that the platform offers an easy-to-use interface that makes it simple for anyone to search for phone numbers without requiring technical know-how.
3.    Extensive Database
WhoCallMe has an extensive database of phone numbers. With millions of listed numbers, users can quickly identify who's calling them and determine whether it's a legitimate caller.
4.    Works 24/7
One of the most significant advantages of WhoCallMe is that it's always available. The service works 24/7, so you can screen calls anytime or at night.
5.    Privacy and Security
WhoCallMe offers an easy way for users to protect their privacy and security. WhoCallMe ensures that all user details and information are kept safe by implementing robust security measures.
6.    Quick Turnaround Time
Unlike other similar websites, WhoCallMe has a rapid turnaround time. Upon entering a phone number into the search bar, users can expect to receive their results within minutes. This is especially useful when dealing with suspicious or harassing callers that require immediate attention.
7.    Multiple Ways to Trace Numbers
WhoCallMe offers multiple ways to trace numbers. Users can enter a number into the site's search bar and receive information on who the phone number belongs to. They can also search through area codes, making finding information about calls received from an unfamiliar source easier.
Cons
However, there are also some drawbacks associated with using WhoCallMe.
1.    May Not Have the Information You Need
One potential downside of WhoCallMe is that it may need more information. Although the platform has a vast database of phone numbers and caller information, there are instances where it may need more data to identify a caller. This can be frustrating for users who rely on the service to get accurate information about unknown callers.
Read Also: Why People from All Walks of Life, Love this
Conclusion
WhoCallMe is an easy and reliable way to run a reverse phone lookup. You can use it to search through numbers as well as area codes. You can find detailed info like the user's name, address, social media, etc. The service is simple to use and offers various features, making it an excellent choice for those looking for a comprehensive reverse phone lookup solution.